In an insightful conversation with men's coach and two-time author Dominick Quartuccio, we explored the nature of sex addiction, its stigmatization, the journey to recovery, and the importance of self-awareness and community in transforming one's life. This often-misunderstood addiction, Quartuccio argues, offers crucial insights not just for those grappling with it directly, but for everyone seeking a more integrated and authentic relationship with their own sexuality
Sex Addiction: A Misunderstood Concept
Sex addiction, as Quartuccio points out, is commonly misunderstood and stigmatized. Yet, it's an addiction like any other that deserves serious attention. Quartuccio's journey started when he hit personal rock bottom in 2013, cheating on the woman he loved. He sought help from Sex Addicts Anonymous, which led him to confront a host of blind spots, wounds, and demons that he was oblivious to before.
His recovery process was more than a path to sobriety—it was a chance to reinvent himself. He learned that understanding and investigating the roots of one's sexual desires, insecurities, and kinks can lead to a more fulfilling sex life. Otherwise, an unexamined sexual existence can result in dissatisfaction and destructive habits.
The Making of a Sex Addict: A Journey into the Past
One of the key steps in Quartuccio's recovery was revisiting the factors that shaped his sexual perceptions and behaviors. Like many others, Quartuccio grew up in a household where sex was a taboo topic. Early exposures to sexual content were treated with shame and guilt, creating a sense of anxiety and secrecy around his own sexuality.
What's noteworthy here is the impact of societal and cultural conditioning. People, especially men, are bombarded with contradicting messages: sex is sinful and immoral on one side, while being exploited and glorified in media on the other. For young boys navigating their way through puberty, these mixed signals can be extremely confusing.
Transcending Shame and Guilt
The struggle with shame and guilt around one's sexuality can lead to a state of what Quartuccio calls 'spiritual homelessness'. Often, certain religious and cultural dogmas position sex and spirituality as antithetical to each other, creating a deep internal conflict.
However, sexuality is a powerful and natural force that, when embraced responsibly and respectfully, can enrich one's life. By breaking free from the shackles of shame and guilt, Quartuccio was able to heal, recover, and help others to do the same.
The Power of Community
Quartuccio points out a common pitfall many men fall into — trying to tackle their problems alone, or what he terms as 'lone wolfing' life. However, the journey to self-discovery and recovery isn't one that should be walked alone. Sharing your struggles, fears, and victories with others who can empathize and provide constructive advice is a vital part of the healing process.
Conclusion: Embrace Wholeness
The path to wholeness begins with acknowledging your struggles, confronting your past, and making an active effort to grow. Quartuccio's journey from sex addiction to becoming a men's coach is a testament to the transformative power of self-awareness, recovery, and community. Whether you are grappling with sex addiction or seeking to understand your own sexuality better, his story offers inspiration and valuable lessons to draw from.
In a world that's filled with contradicting messages about sexuality, understanding and embracing your sexual self is a vital part of becoming an integrated human being. The first step is to break the silence, open the conversation, and most importantly, extend compassion towards oneself and others who are on the same journey.
Related episode of Mercedes and The Chap
#6 The Making of a Sex Addict w/ Men's Coach: Dominick Quartuccio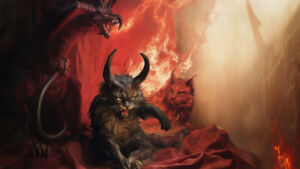 Dancing with Darkness: A Feline's Guide to Confronting Inner Demons Often we hear heartwarming stories about the companionship and love
Read More »