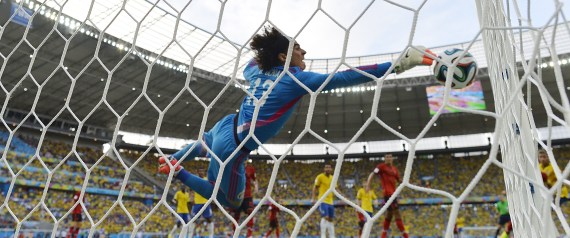 Brazil had an entire lineup filled with stars. Unfortunately for the Selecao, Mexico had Guillermo Ochoa. The goalkeeper held the hosts of the 2014 World Cup scoreless with a masterful performance in a 0-0 tie at Estadio Castelao in Fortaleza on Tuesday.
"He was the hero tonight," Mexico defender Rafael Marquez told ESPN's John Sutcliffe shortly after the match. "He did great work tonight."
With Neymar and Oscar contributing to wave after wave of Brazil attacks, Ochoa resolutely defended his net against the onslaught. By the time the referee whistled for full, Brazil had tallied 15 shots and 24 crosses yet Ochoa still had a clean sheet.
In the 26th minute, the 28-year-old from Guadalajara, who isn't even currently on a club team, let everyone know it would be an effort to remember. Ochoa made a leaping save to deny Neymar a goal, who had headed a cross from Dani Alves toward the net. Just before the ball could sneak inside the post, Ochoa came soaring in to push it clear. Brazil so narrowly missed a score on the play that ESPN showed what the goal-line technology available at the World Cup had to say about the effort.
(GIF via @BuzzFeedSports)
Before the break, Ochoa was called off his line to end another Brazil foray into his penalty area. There were five yellows shirts in the box. The lone man in blue handled it.
(GIF via @mshamburger1)
As the second half advanced toward full time, Brazil kept knocking on the door. With crowd roaring for a goal for the home side, Ochoa kept that door closed.
(GIF via @FlyByKnite)
(GIF via @bkurbs)