This is THE product to get! If you don't want to spend money on artificial nails or pay a ridiculous amount on gel nail polish this is the only alternative.
If you read the directions and follow them to a T, then you'll have gorgeous nails all the time!
I only wish I'd gotten this sooner, I'd have saved myself so much money on overpriced nail salons. Just remember to apply very thin layers of polish, and you can't go wrong.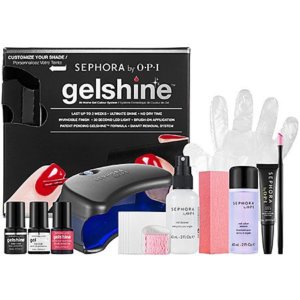 What it is:
A customizable at-home gel manicure kit that offers expert performance and salon technology. Personalize this kit with the gelshine™ Gel Colour of your choice by bundling it with this set at no additional cost.
In just 3 easy steps, you'll be on your way to customizing your new gelshine™ At-Home Gel Colour System!
STEP 1: Add this kit to your cart.
STEP 2: Add the gelshine™ Gel Colour of your choice to your cart.
STEP 3: A $17.50 discount will be applied automatically at checkout (one discount per order; discount not applicable for Canadian orders).
What it does:
Sephora by OPI gelshine™ At-Home Gel Colour System delivers optimal results with salon technology. This Sephora exclusive is fully loaded with all the necessary tools for the perfect at-home gel manicure, featuring the highest quality gel formula on the market, and one of fastest LED cures with the smartest removal system. With invincible wear for up to two weeks, zero chipping, zero dry time, and the highest shine available, the patented, unique, professional grade formula is sure to leave your nails ultra-glossy and perfectly pretty.
This set contains:
– 0.29 oz gelshine™ Base Coat
– 0.29 oz gelshine™ Top Coat
– 0.29 oz gelshine™ Gel Colour (must add to cart separately)
– gelshine™ LED Light
– 25 x Nail Pads
– 3 x Removal Nail Wraps
– 2 oz Nail Cleanser
– Buffing block
– 2 oz Nail & Gel Colour Remover
– 0.3 oz Brush-On Cuticle Oil
– Cuticle pusher
– 3 x gloves
– Instructions
[av_button label='Shop Now' link='manually,http://www.amazon.com/gp/product/B0088WCS4S/ref=as_li_tl?ie=UTF8&camp=1789&creative=390957&creativeASIN=B0088WCS4S&linkCode=as2&tag=merceterre-20&linkId=5TA7I3QBWQJVRKJK' link_target='_blank' color='theme-color' custom_bg='#444444′ custom_font='#ffffff' size='medium' position='left' icon_select='yes' icon='ue827′ font='entypo-fontello']